Couldn't stop with just one …
It started with a sewing pattern for a tent.
From there, my brain was spinning with ideas, resulting in two kinds of sleeping bags, a soft-sided cooler and even a portable padded chair. I love how one idea leads to another… and another… and another!
In the process of creating these fun camping accessories, I've also been on the hunt for related items that are either available for sale or that others have designed and can easily be made.
I thought I'd share a few of those items with you today…
For Your Campsite…
Campfire – It's easy to create your own safe doll-sized campfire pit using a few pieces of wood or bark from the yard and a battery-operated tea light! If you'd like a pit to contain the fire, a salsa bowl like the one shown works great. (I found mine at Albertsons.) Add a white pony bead or two to the end of a small stick and you're all set to roast marshmallows!
Flashlight – There are lots of small flashlights available on the market that would work for your doll. I found mine at our local variety store for just $1 each.
Lantern – Spotted on the the Savage Dolls blog, this little doll-sized lantern is made using a medicine cup, pill bottle lid and tealight. Very clever (and cute!)
Hard-Sided Cooler – Another fun cooler to make, this one created by Camp Doll Diaries is made using a tea box and foam.
Cook Stove – Also from Camp Doll Diaries, this little cook stove is made using an Altoid tin, foam, Duck Brand crafting sheets, pony beads… and a ton of creativity!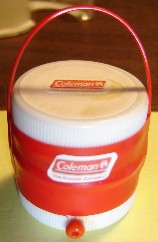 Water Cooler – Shared on the TopsInSwaps.com website, this little water cooler is made from bottle caps, electrical tape and beads. (Be sure to check out their page because they share a ton of other fun DIY camping accessories projects in addition to this one!)
For Your Cooler…
Snack Attack Soda Pop Scented Bottle Erasers from RaymondGeddes.com – These fun little erasers are the perfect size for American Girl and other 18-inch dolls! Add some bubble wrap to your color to mimic ice, toss in a few of these bottles and you're all set for your backyard barbecue, campout or road trip!
Snack Attack Soda Scented Erasers from RaymondGeddes.com – Prefer canned drinks? They have those too!
Fresh from the Garden 3D Erasers from RaymondGeddes.com – More doll-sized food from this online school supply store.
Looking For More Doll-Sized Camping Accessories?
I've started a Pinterest board just for that purpose! As I discover new ideas, I'll share them on the board so be sure to follow me if you'd like to see what I find!
Follow Matilda Jo Originals's Board Camp Matilda on Pinterest
Share Your Ideas!
Have another great doll-sized camping accessory to share? I'd love to see it! Feel free to comment below…
Save
Save
Save
Save
Save
Save
Save
Save
Save
Save